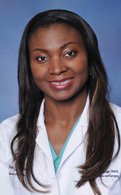 Imaze Marian Davis, DPM, MBA
Dr. Imaze Marian Davis

Dr. Imaze Marian Davis received her undergraduate education at Kentucky State University, earning her Bachelor of Science in Biology with a Minor in Chemistry. She also received a Bachelor of Arts in Liberal Studies. She then went on to complete podiatric medical school at the Barry University School of Podiatric Medicine located in Miami Shores, Florida. Dr. Davis then completed a residency at Westchester General Hospital. She also holds a Master of Business Administration from Barry University.

Dr. Davis has hospital affiliations with North Shore Medical Center, Jackson North Medical Center, Aventura Hospital, Kendal Regional Medical Center, West Gables Rehabilitation Hospital, South Florida Surgical Center, Southern Wings Nursing Home, St. Catherine's Rehabilitation Hospital and Villa Maria Nursing Center. She is the supervisor of the podiatric residency training program at Westchester General Hospital. Dr. Davis is a diplomate of the American Board of Multiple Specialties in Podiatry and is board certified in Primary Care in Podiatric Medicine and in Podiatric Surgery. Dr Davis is also certified by the American Board of Podiatric Medicine and the American Board of Wound Management. She is a Certified Wound Specialist Physician.

Dr. Davis Resume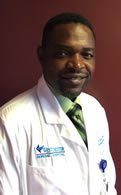 Dr. Eric Zephirin
Dr. Eric Zephirin
My name is Dr. Eric Zephirin. I am Haitian American and fluent in both Creole and English. Originally from New York City, I have decided to make my home in South Florida with its sunny climate, varied ethnicity and endless beaches.
I received my bachelors of science in biology with honors from Life University in Marietta, GA. I went on to complete my medical degree from Barry University School of Podiatric Medicine and Surgery here in Miami, Florida. I also completed a three year podiatric medicine surgical residency program at Westchester General Hospital in Miami, Florida. I am dedicated companionate practitioner and a family man. I enjoy spending my off time with my wife and kids. My hobbies include golf, fishing, and snorkeling and minor home repair projects.
I look forward to serving the South Florida Community in the area of Podiatry.
Our Staff
Chanel Fleming
(Back Office)

Evelyn Pacheco
Back Office/Spanish Speaker)

Ms. Gladiest Henry Barnes
(Office Manager)

Quantia Curry
(Front Office)