Suffering from foot, ankle or heel pain?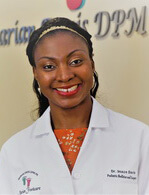 Imaze Marian Davis, DPM, MBA
Foot doctor Imaze Marian Davis, DPM, MBA, located in Miami, FL, is certified in wound care and is the Former director of the Wound Healing Center at Northshore Medical Center.
Dr. Davis specializes in foot and ankle trauma surgery, sports medicine, diabetic routine care, laser treatment for toenail fungus, elderly home-bound care, radio frequency treatment for heel pain and much more. Having chronic foot or ankle pain can affect the quality of your life which is why we are committed to making our practice and care convenient and accessible.
We accept most insurance plans and welcome new patients!
Please note that we provide 24 hours answering service to provide patients with appointments. Call today: 305-835-8000